TEACHER ENHANCEMENT
Do you want to develop professional competence and pedagogical skills in your organisation?
Participate in research-based in-service training courses centered around the world's best education system from Finland.
Courses are provided by the experts from the Oulu University Teacher Training School.
We have extensive experience with research-based training courses and have received exceedingly positive feedback from past participants.
Online training courses
Professional Development for educators in basic education and high schools.
The skills and competences gained from our online training courses are connected to the implementation of the curriculum in basic education and high school. Participants will be able to apply course content to their work.
To support your learning of the topic we provide to you:
Real-time tutoring and a Q&A session
Orientation materials to be studied before the course
Real-time lecture(s) with facilitated discussions led by experts
Assignments related to the topic
Instructions to direct the work-based learning module
There are two options to choose from.
1) You can study a six-hour long course to get a compact understanding of the content.
We provide you an opportunity to a real-time meeting with the Finnish experts to discuss matters of your interest.
2) A ten-hour course offers you a broader view of the course content. You get a deeper understanding of the topic with more real-time interactive lectures available. In addition, you will have real-time interaction with Finnish experts to answer your questions.
MODULE
CONTENT
COURSE LENGTH
1: Orientation
Familiarise yourself with course materials
Individual study
1
1
2: Real-time lecture
Content depends of the topic of your choice
Online training session for a group
2
2
3: Assignments
Applying the topic to your work
Individual study
1
1
4: Real-time lecture
Content depends of the topic of your choice
Online training session for a group
N/A
2
5: Real-time tutoring
Meeting with the tutors; a Q&A
Real-time meeting
1
1
6: Real-time lecture
Content depends of the topic of your choice
Online training session for a group
N/A
2
7: Work-based learning
Reflection: Exchanging experiences
Group work with local colleagues
1
1
TOTAL NUMBER OF STUDY HOURS
6
10
Online training course fees
The fee for a six study hours' online training course is 300 euros + VAT 24 % per person for a group of 10-20 participants.
The fee for a ten study hours' online training course is 400 euros + VAT 24 % per person for a group of 10-20 participants.
The minimum number of a group is 10 participants. A discount will be provided for larger groups.
Topics
We offer in-service training of a variety of topics.
Introduction to the Finnish Education System
Assessment for Learning
Co-teaching
Positive Education
Positive Leadership and Flourishing Organisation
Outdoor Education
Supporting Students' Learning Processes
Teaching Thinking
Pedagogics in English Language
Education for Sustainable Development
Education in the 21st Century
Diversity in Education
We are also happy to hear your wishes and interests in case you cannot find a relevant topic for you from the list.
Feel free to contact us and let us know what topic would be relevant to your organisation's needs.
The length of each training can be arranged according to your needs. We can send you more information about the online training courses.
Please, note that the online training courses are targeted to groups only.
Benefits to Participants
The objectives of the courses are to enhance participants' competences and improve the quality of their students' learning outcomes.
Oulu University Teacher Training School aims to incorporate the active learning model by engaging participants directly in designing and applying pedagogical practices in their organisations.
Teaching Methods
Orientation materials to provide information about the topic.
Interactive series of real-time and video lectures.
Study materials as reference materials for the topic.
Content related assignments and exercises for embedded practice of the new knowledge.
Reflection sessions to further broaden differing perspectives with your colleagues.
Real-time tutoring to give you an opportunity to learn together with experts from Finland.
Teaching Media
Teaching media includes e.g. online training sessions, videos, websites, articles, and reflections from the course.
Evaluation of participant achievement
Oulu University Teacher Training School provides certificates to all participants who successfully complete a training course.
Participant's achievement is evaluated by
Attending the real-time lectures
Completion of given assignments
A Course is graded on a pass/fail basis. Participants must have attended all course modules to pass.
I am interested to hear more about a course:
Contact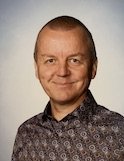 Dr. Raimo Salo
Team Leader
+358 50 51 671 79
raimo.salo (at) oulu.fi
Materials
University of Oulu is audited by Finnish Education Evaluation Centre (FINEEC)