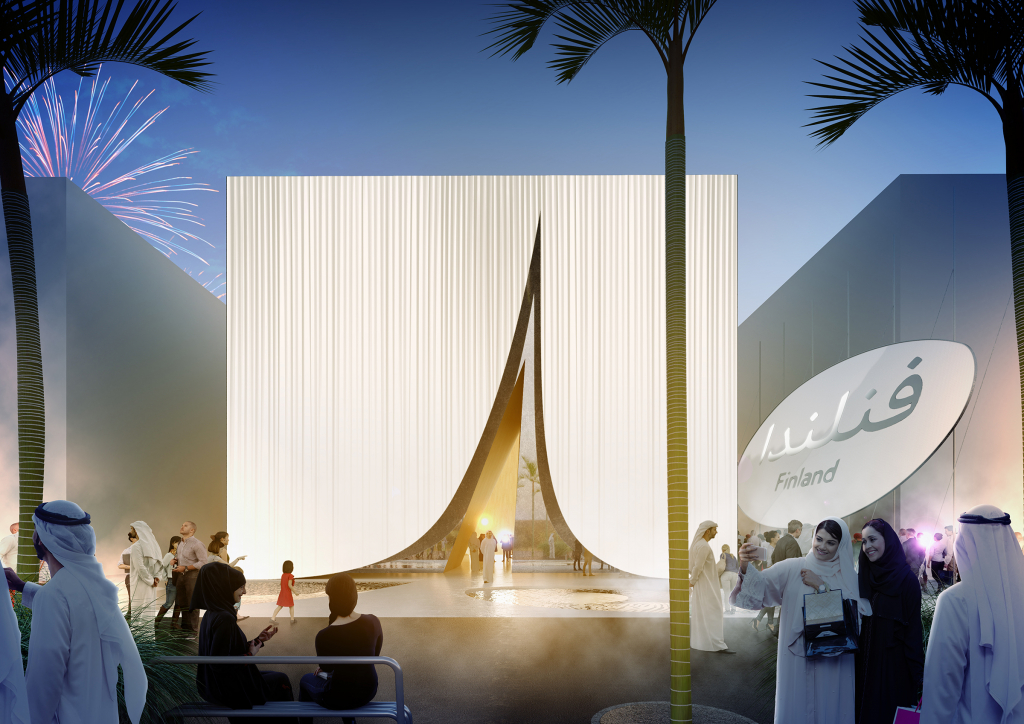 Sharing Future Happiness!
Oulu University Teacher Training School at the Dubai EXPO 2020
Oulu University Teacher Training School was happy to be part of the hearty team participating at Expo2020 Dubai.
The EXPO is organised from October 1, 2021 till March 31, 2022.
Our school was present at the Finland's Snow Cape Pavilion during December 14-16, 2021. The programme during February 1-2, 2022 was organised online, only.
We offer out the best of our in-service training content to you and your organisation. We were happy to meet local experts in Dubai and discussed about their training interests.
You can continue to experience our services with your mobile device via Augmented Reality (AR) Enjoy!
In the Finland's Pavillion we were showcasing how ISKU furniture solutions function in practice in education in February 21, 2022.
There were 20 students from our school to meet with GEMS Modern Academy, Dubai students at Finland Pavilion.
The day's programme included also keynote presentations by the education experts and of course, students' insights about the cooperation between schools.
We were happy to share the research-based pedagogical knowledge and the joy of happiness with all EXPO visitors and guests.
At the EXPO visitors were able to learn more about the global services aimed at school managers, teachers and mentors.
Our core competence is in teacher training. We provide personalised professional learning opportunities for educators.
You can develop your competence by attending our online courses of a variety of topics or by attending our international on-site seminars.
Please, find more information about the training opportunities and contact us for more information.
The official website of Finland at Dubai EXPO 2020 - Sharing Future Happiness includes amongst other things a great video about Circular Economy from Finland.
You can view the official Finland's pavilion images from this website.

Dubai Expo Education Forum
Oulu University Teacher Training School was represented in the Dubai Expo Education Forum on April 12th, 2021.
The on-line event brought together experts in the fields of teacher training, curriculum, well-being, EdTech solutions and artificial intelligence to share their insights, knowledge and guidance in a series of expert interviews, panel discussions and live Q&As.
The event was targeted to all working in the field of education: teachers, principals, school leaders and government officials.
Dr. Raimo Salo from the Oulu University Teacher Training School took part in the panel discussion: Building educational resilience - Creating a culture of well-being and learning through the adoption of new skills.
The panel of education experts explored how schools across Finland and the UAE have responded to the COVID-19 Pandemic, what they had learned from the lockdown restrictions placed on schools, and why Finland favors the hybrid model.
Dr. Salo highlighted the well-tried practicalities evolved in their school during the pandemic as well as shared ideas on how a school can be prepared for similar crisis in the future.
You can watch the Forum's presentations from here:
https://www.finland-dubaiexpo2020.com/education-forum.html