ONLINE DIPLOMA PROGRAMME IN EDUCATION LEADERSHIP AND MANAGEMENT
Good to know about the courses:
The course consists of 40 study hours.

You can study the course at your own pace.
You will have two months to complete a course.
The course fee is 890,00 euros + VAT 24 %.
Registration for the course is now open!

Please, find the registration form at the bottom of this page.
The Diploma Programme is qualified as in-service training and does not provide a degree or a formal qualification.
After we have confirmed your place the registration is binding.
Notifications, amendments and cancellations must be made in writing by e-mail to Oulu University Teacher Training School tts ( a t ) oulu.fi.
The fee for any amendments or cancellation is 50 € / registration.
Yes, I want to register to a course. Please, contact me for further information.
Contact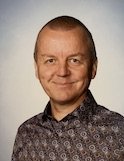 Dr. Raimo Salo
Senior Adviser
+358 50 51 671 79
raimo.salo (at) oulu.fi